Remember back in those old days one has to reach out to a specific set of people, or rather professionals, to create a website for you? And for that, they have to code all the way to create the desired website and would charge hefty money. Right?
Technology has advanced a lot since then. It has completely changed the way the websites were designed and developed earlier. Nowadays even beginners with no coding knowledge at all can have a website set up and designed in a couple of hours all by themselves. Let's see how.
I believe the major change came when a CMS (Content Management System) like WordPress was introduced. Since its inception, the way a website is created has changed tremendously. Everything is created for you in a single software package, you just have to organize some pieces around and you are done.
A recent report says that as of October 2021, WordPress is being used by 43% of the top 10 million websites. And now with WordPress being the most popular Content Management system (CMS) out there, more and more organizations and individuals like me prefer to host their website with WordPress only.
Do you know why?
The main reason is their open-source plugin architecture. Users now have a lot of options to choose what plugins they want to use to extend their website's functionality.
Now, you must be thinking what about designing the website?
Well! WordPress community understands your needs and offers plugins for that purpose as well. With the help of those plugins, you can design the layout of your website or blog the way you want.
So in this post, I'll be talking exactly about such plugins and how beautifully you can design the layout of your web page on your own. Also, we'll take a look at the best website builders for wordpress that are in the market.
But before that let's see what exactly page builders are and how helpful they will be to you in your WordPress journey.
So, What The Heck is Page Builder?
Out of many different types of plugins that WordPress offers, one of the plugins which we will be talking about is a wordpress page builder. These plugins enhance the overall look and feel of your site. If coding comes to your mind when hearing the term wordpress website builder or wordpress page builder then worry not as these are simple drag and drop and nothing else is required.
Also, check our article on why you must use CDN for your images
Benefit of Using a Web Page Builder
It becomes very frustrating and intimidating for beginners who are trying to set up the layout of the website. Earlier, one has to write a lot of code and CSS files to have the desired layout. And if a person is a total beginner who doesn't understand code then that would be a big problem. Right?
But what if I say no more code?
Does that make you a little excited? Yes?
Whether you call it a website builder or a web page builder, the logic behind this is the same. It allows you to create beautiful web pages where absolutely no coding is required. Let's explore some of the features of website builders:
Create stunning websites
Built-in blocks ready to be used right from panel
No coding required
Beginner-friendly
SEO-friendly code blocks
Drag and Drop editor
Ready made templates
Resizable columns
Best Website Builder for WordPress?
Having said that there are a lot of wordpress page builder plugins in the market that offers more or less the same functionality but each offers a unique feature, let's have a look at the best website builder for wordpress:
Elementor was launched in 2016 and since then it has skyrocketed in the WordPress community with over 4 million websites using Elementor wordpress page builder plugin as their go-to page builders.
Elementor is a free wordpress website builder and offers you a live drag and drop editor where you can build & customize every single part of your website with ease. Also, when you are designing your content, you can see what your website will actually look like before publishing it.
Elementor also offers ready made templates that you can use and customize according to your needs.
Talking about the pricing, Elementor offers 3 plans – Free, Elementor Pro, and Elementor Website. The free version offers a basic version of Drag & Drop Live editor with responsive design to all elements. It also provides a basic version of theme builder plus access to 30+ basic widgets and templates.
The pro version has everything that the Free version has plus it provides access to 90+ pro widgets and 300+ pro templates. The Pro version initially starts from $49/ year for a single website and the price goes on increasing to $199/ year if you plan to use the plugin for 25 websites.
Beaver Builder is another page WordPress page builder plugin that allows you to add and customize everything on the front end. It also offers several shortcodes and widgets that can be placed anywhere on your site. Beaver Builder is an SEO-friendly tool and can be used with almost any theme and plugin.
Beaver Builder also has Themer Add-on that lets you create different layouts for your site according to your needs and allows you to connect these layouts to the data inside each template. Apart from that, the good part is that Beaver Builder can be used on unlimited sites with just a single license.
Looking at the pricing, the beaver builder – wordpress page builder plugin offers 3 variants – Agency, Pro, and Standard version. All versions include an unlimited no. of sites, a page builder plugin, and premium modules and templates but the Standard version lacks Beaver builder theme, multisite ability. Both the Standard and Pro version lacks White labeling.
The Standard version costs you around $99/ year with the Pro and Agency versions costing around $199 and $399/ year.
Another popular WordPress page builder plugin available in the market is WPBakery. WP Bakery is also one of the premium WordPress page builder plugins that offer you both frontend as well as backend editor that provides you full control your site without touching a single line of code. It also offers you ready to use content elements, templates, and addons to build your web pages in seconds.
It also provides support for a 3rd party plugins that you can use while designing your page layout. Some of these plugins are Gravity Forms, Woo Commerce, Contact Form 7, Revolution Slider, and more. Along with that WPBakery Page Builder has a repository of free premium quality layout templates that can be downloaded and used on a WordPress site.
Another great feature that WPBakery Page Builder comes with is advanced Grid builder and Grid elements. It has around 40+ predefined grid elements that allow you to easily display posts, portfolios, or even media in a beautiful way.
For people who are developers, it allows for the integration of the WPBakery Page Builder plugin in their theme and resells it. Also, just from the WordPress finctions.php, the plugin functionalities can be extended by simply modifying the default content elements or one can even add their own shortcodes to the plugin drag & drop interface.
As far as the pricing is concerned, WPBakery Page Builder offers a Regular and Extended plan. The Regular plan will cost around $56 one-time and can be used on a single site and provides access to the template library with free updates and premium support. The extended version on the other hand can be used in a single SaaS (Software as a Service) application and allows integration of several themes. All these come at a price of $299.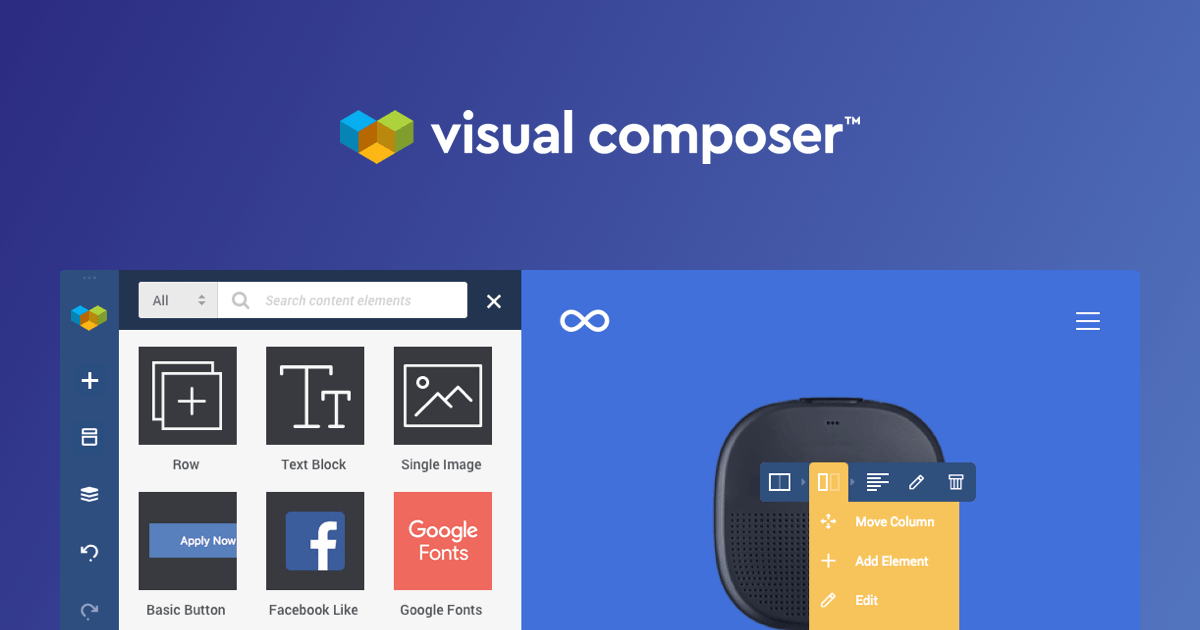 Visual Composer is another powerful and free wordpress website builder plugin. Its intuitive Drag and drop editor allows you to simply drag and drop content blocks from the library to your layout without any hassle. With Visual Composer, you can have your site designed fully, allowing you to customize everything from individual pages, to sections to global elements like site headers and footers.
The plugin comes with a bunch of ready made templates that are professional and can be used right away. All these templates can be customizable according to your needs. With Visual Composer, you can also build a powerful popup that will eventually lead to an increase in sales and greater conversions.
Regarding pricing, Visual Composer does offer a free plan that will remain free forever and is good enough to test its functionality. However, the free plan is limited to 30 elements and 10 templates and lacks some design tools.
The Premium version of Visual Composer starts from $49 a year for a single website and increases to $99 a year for 5 websites.
Any Free WordPress Website Builder?
Well, every page builder plugin does offer its free version which can be tested out. But the free version won't be able to make your site that appealing as there would be some limitations and you can use up to some of the elements or code blocks or the templates.
Having said that, you can test these plugins and figure out what suits you the best considering your ease of access or beginner-friendly. And you can then upgrade it to the Premium version to make the most of it.
Conclusion
If you are planning to create your own website in the future, page builder plugins really come in handy and can get most of the work done in a couple of minutes.
Trust me!
As they come with a lot of ready-made layouts and elements Initially, it will get a bit overwhelming for you when you start using them. But the more you use it the more you will get to know about it.
If you are tight on your budget or the one who is just starting out then you can actually check out the elementor wordpress page builder plugin which is a free WordPress website builder plugin and is easy-to-use and beginner-friendly.
And still, if you face any issues or need some help, you can check out all my guides on WordPress Website Builder Tutorial.
What is your best website builder for wordpress? let us know by commenting below.
Till then! Happy Blogging! 🙂